aid in haiti, 4 years later
Owning your crisis: aid partnerships in Haiti
PORT-AU-PRINCE – Following the 2010 Haiti earthquake, aid agencies were criticized for not doing enough to include or empower local authorities in emergency responses and recovery efforts. Four years later, IRIN has spoken to Haitians, government officials and aid agencies, to see whether this had changed.
In 2011, French think-tank URD synthesized lessons learned from several Haiti evaluations, in which they stressed aid agencies must do more to reinforce urban administrations at all levels nationally and in neighborhoods, when supporting rebuilding. They should do the same with urban planning agencies, development actors and the private sector, they stressed. And in short transfer of responsibility for coordination to technical ministries should speed up.
"Despite suffering terrible losses themselves, the State and local authorities had to coordinate relief operations," noted URD.
In the early days of the emergency response, the already-weak Haitian government was crippled by the loss of personnel and infrastructure in the earthquake, so much of the effort was led by foreign aid workers with knowledge of disasters, but not necessarily of Haiti. Government officials were not always invited to meetings. And to make matters worse, cluster meetings were often held in English, effectively barring the participation of Creole and French-speaking Haitians.
Since then, eight of the original 12 sectors organized by the United Nations into 'clusters' to coordinate response have dissolved, their duties handed over to the government. The four clusters that remain active — camp management, sanitation, protection and health — reveal which sectors are still in the emergency relief phase.
Today, the Haitian government has assumed an increasing amount of responsibility in these four sectors, but will likely require the continued support, and in some cases leadership, of aid agencies for some time to come.
"The capacity of the Haitian authorities has evolved, but it remains weak," said Fools-Gen Sanon, the Communal Coordinator of Port-au-Prince's Pétion-Ville commune, which works closely with international actors to resolve persistent problems within its jurisdiction.
"We know how to deal with the [Haitian] people, but we don't have the means to meet their needs. Our capacity has evolved, but that doesn't mean we no longer need help and funding from NGOs," he told IRIN.
If money is any indication, the biggest priority among Haiti's persistent problems is the relocation of 147,000 internally-displaced persons (IDPs) still living in some 270 camps, by the latest count by the International Organization for Migration, the lead agency in the Camp Coordination and Camp Management cluster. The entire CCCM cluster will need a minimum budget of US$78 million (optimum budget: US$129 million) this year, according to the UN's 2014 Humanitarian Action Plan.
Critics say that those numbers are too high four years after the earthquake, but IOM says their efforts and funds are producing results and the number of IDPs has dropped by over 90 percent from the original 1.5 million in 2010.
"After the earthquake, considering the levels of funding that were available, we would've hoped that it wouldn't have taken this long," said Bradley Mellicker, a disaster risk reduction specialist with the IOM and the coordinator of the Camp Coordination and Camp Management (CCCM) cluster. "But there were challenges that we hadn't seen in other places, especially on that scale."
These challenges included subsequent natural disasters, fake land titles, violent evictions, political instability, a cholera epidemic, extra duties inherited from dissolved clusters, and a decrease of funding, he said.
"[Humanitarian] funding cycles are short and tend to gear toward quantitative rather than qualitative results," said Mellicker during a Skype interview from the Philippines, where he was temporarily posted to help with relief efforts there.
He says disaster-relief funding is easier to procure than development aid, evidenced by the decrease of international actors in Haiti from 515 in 2010 to 117 in 2013. With fewer dollars and partners, the effort to clear IDP camps may take even longer as it transitions from the cluster approach to it's government partner, the Unit for the Construction of Housing and Public Buildings (using the French acronym UCLBP).
But things are moving forward. After navigating the narrow, hillside paths of the Acra 2 camp for nearly four years, relying heavily on his cane and one good leg, Charles Ivalien and his family moved into their new home on January 5 — not far from the camp in Pétion-Ville.
"The transition was very smooth," the 52-year old retired teacher told IRIN. "IOM approved the house and we moved in shortly thereafter."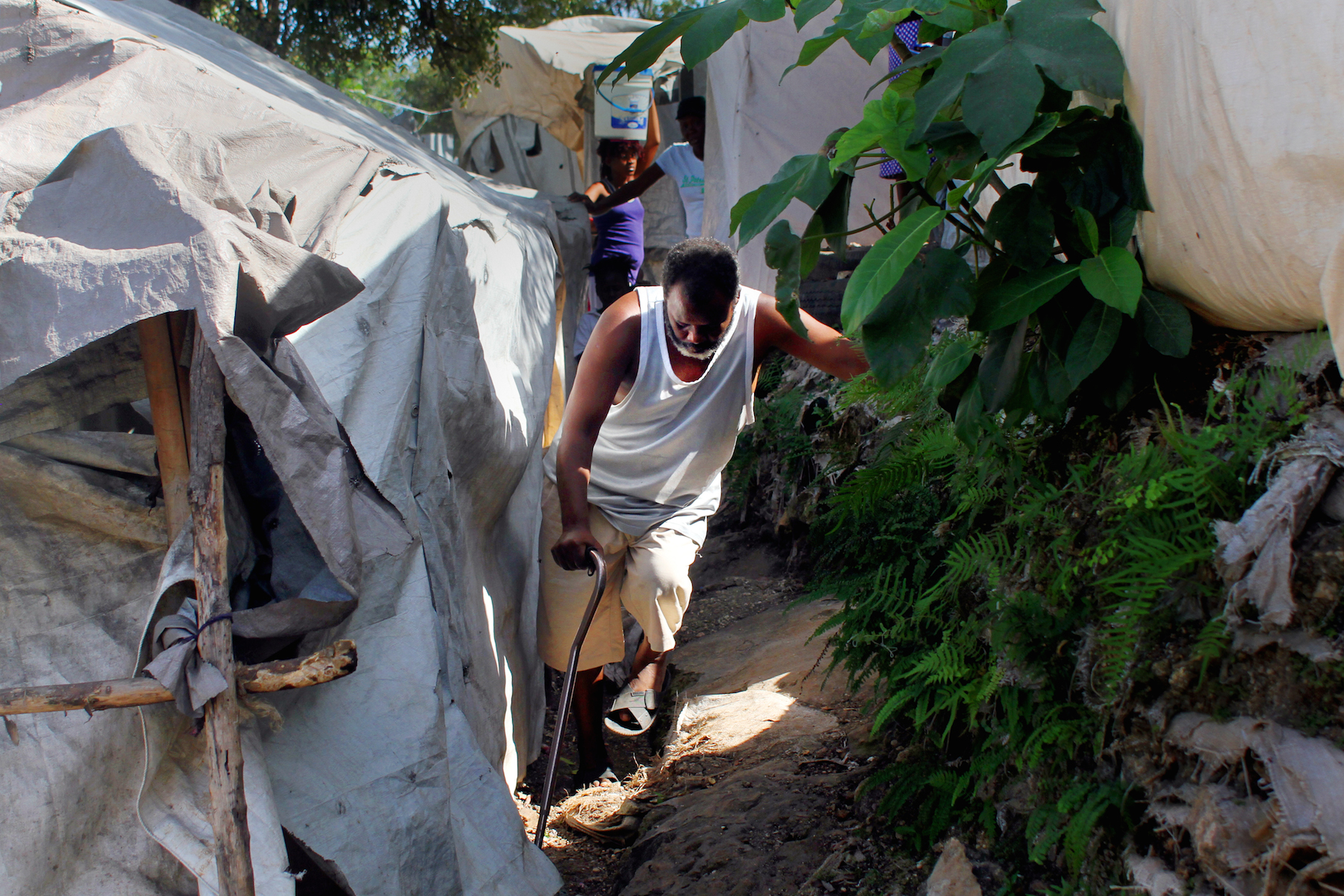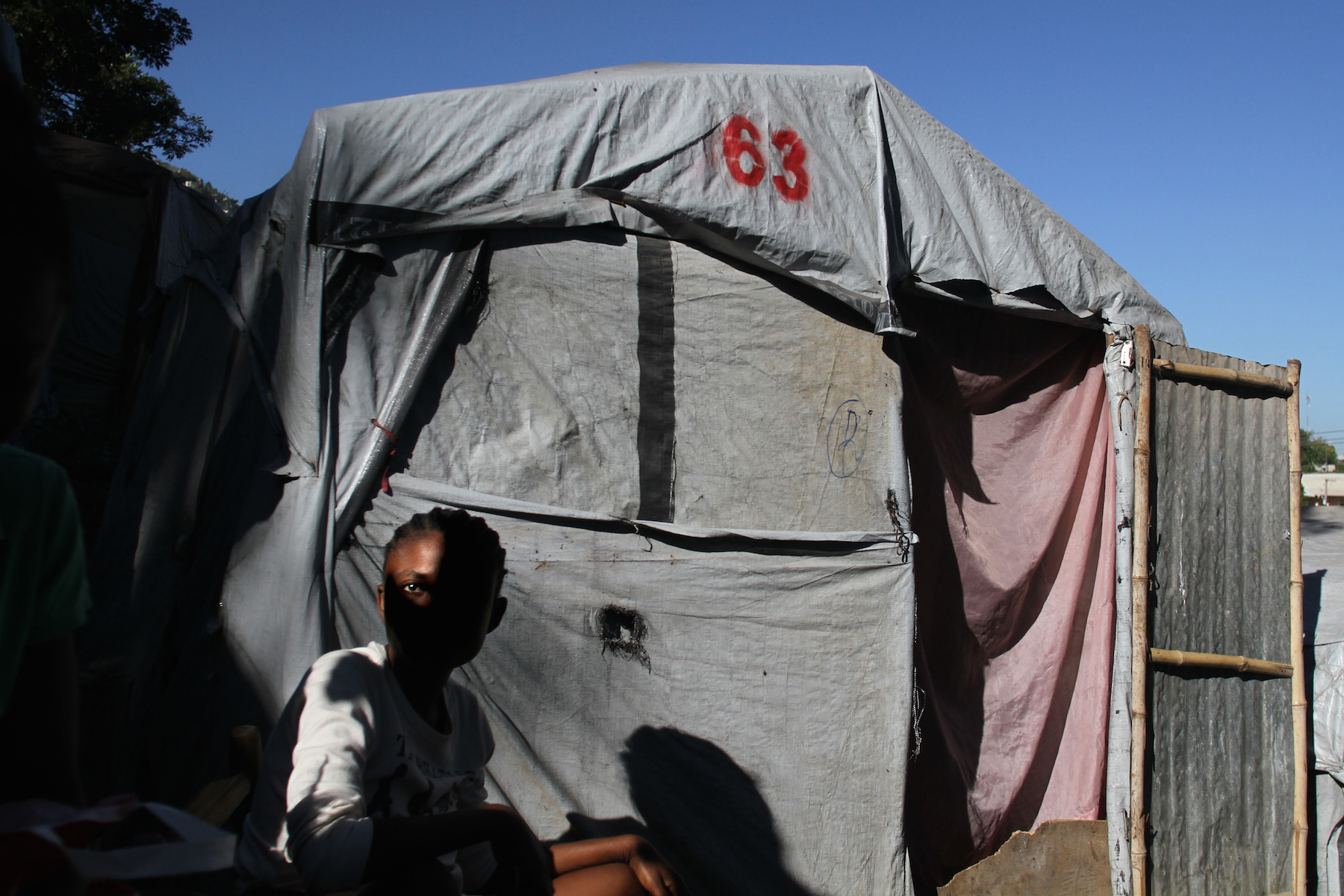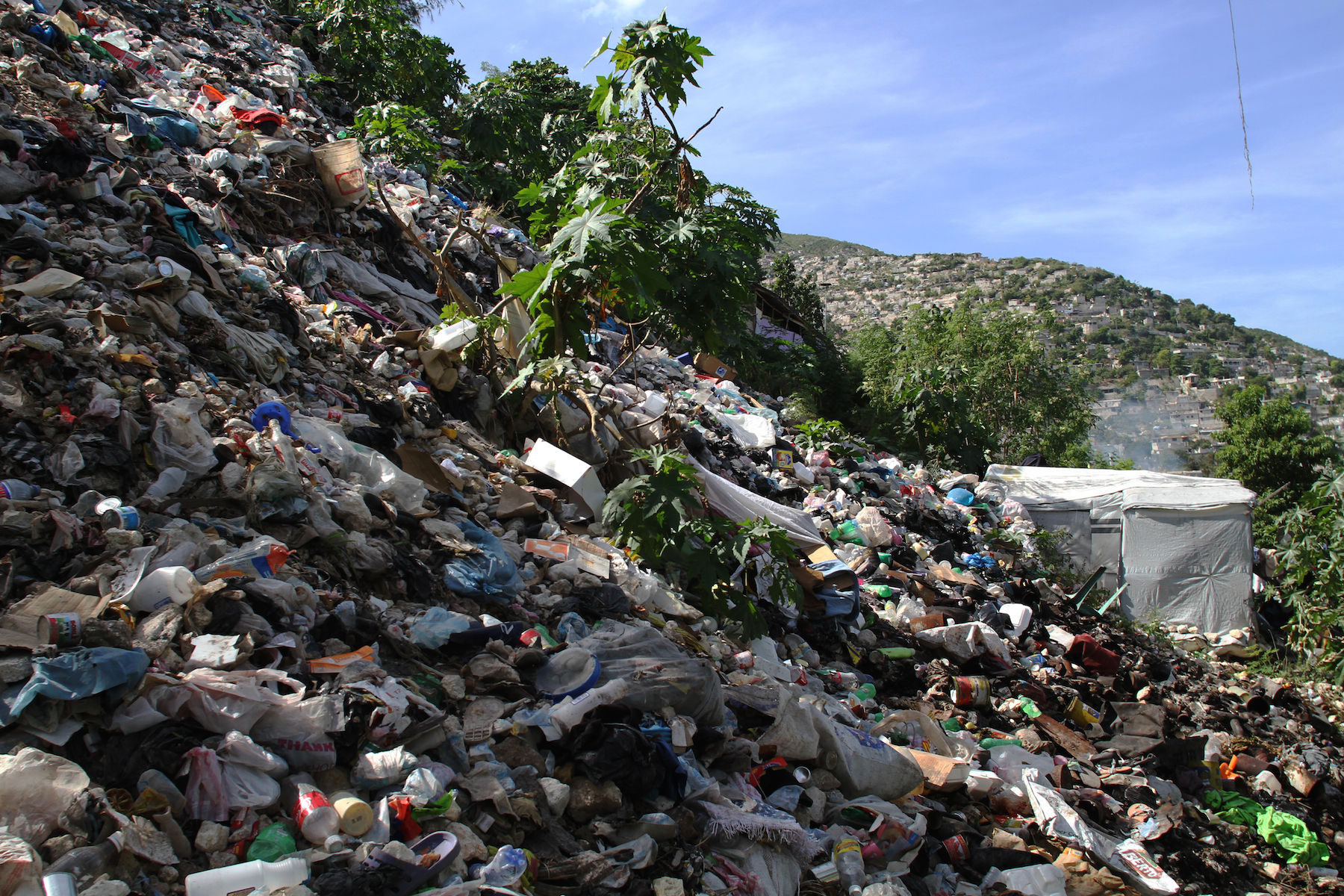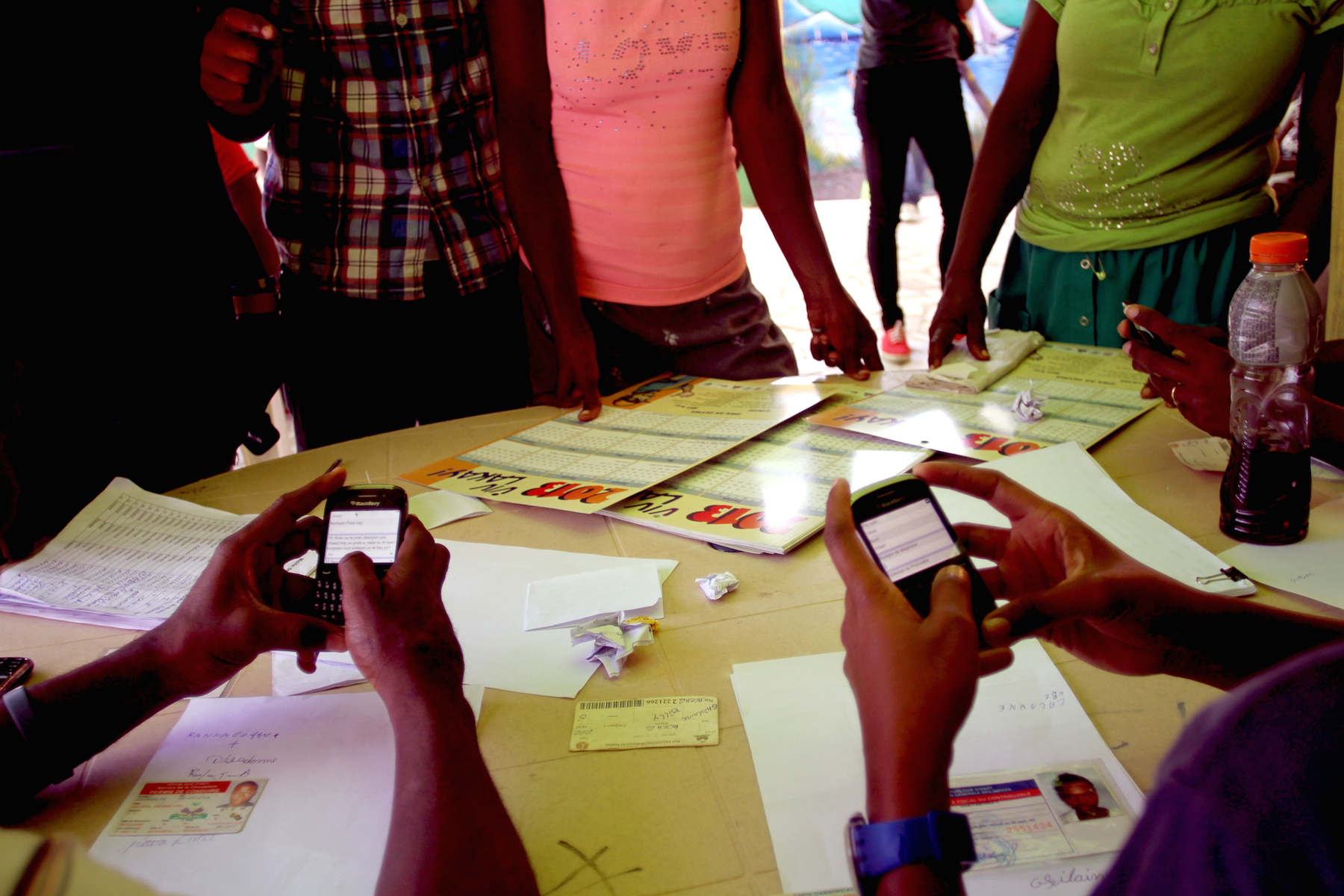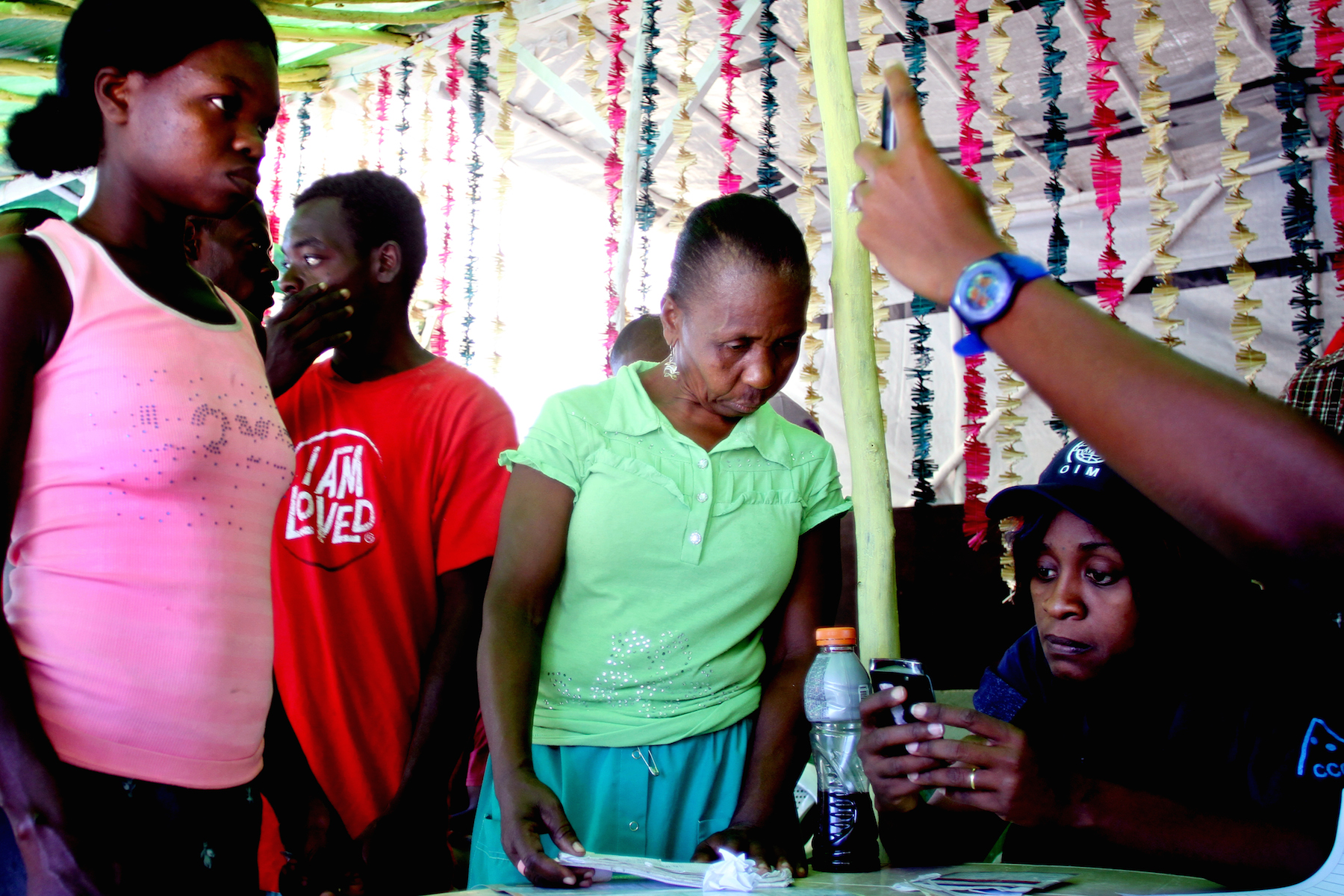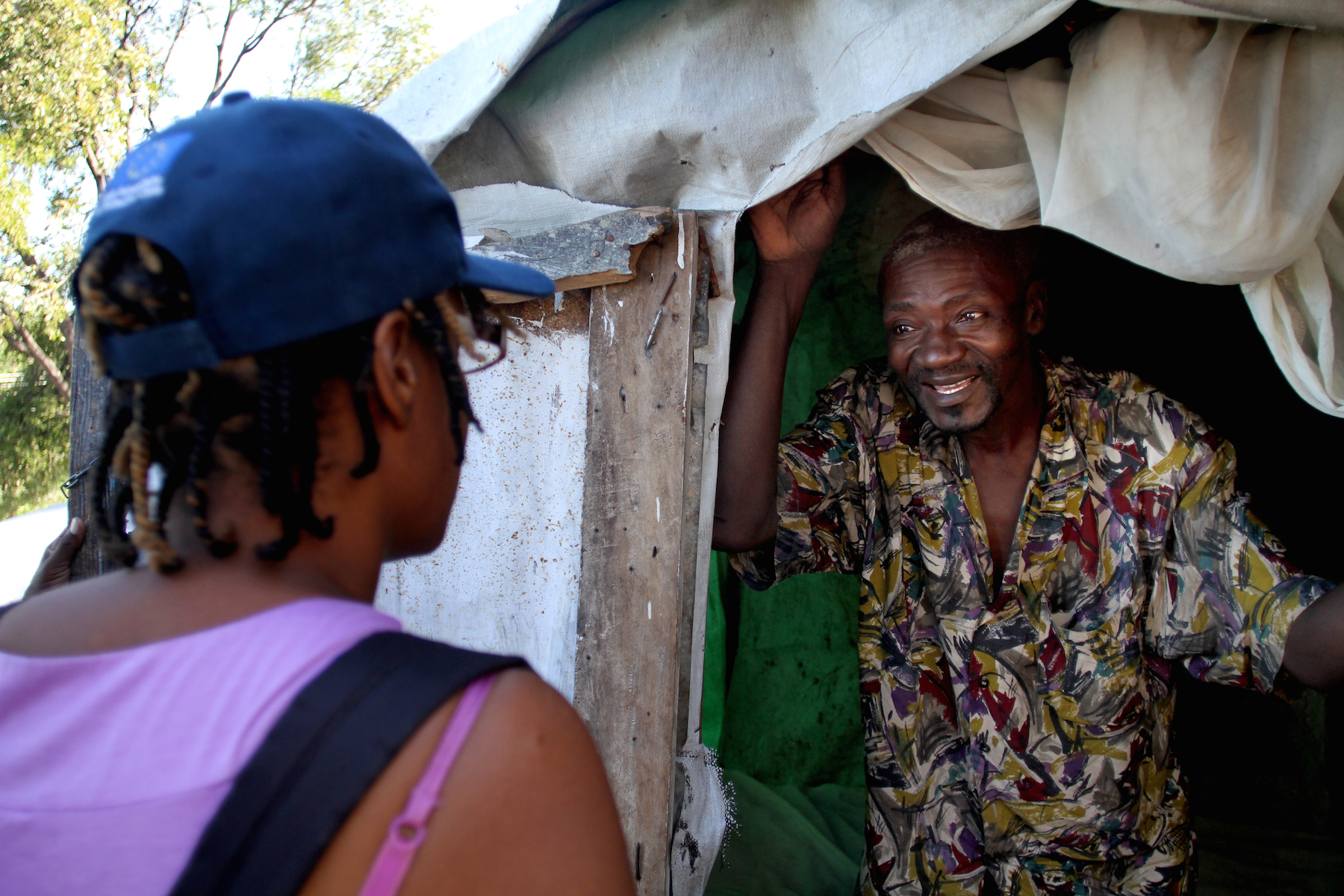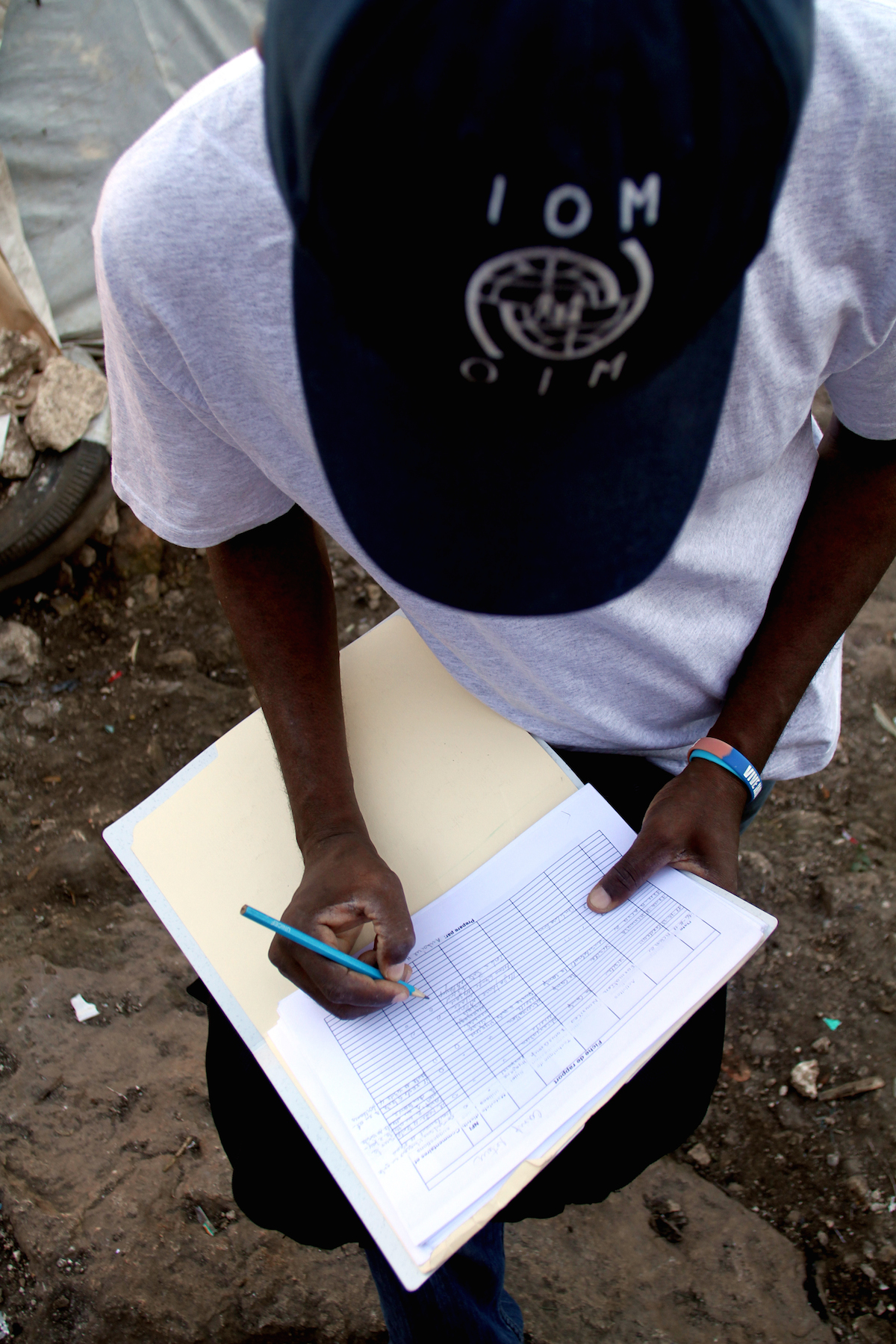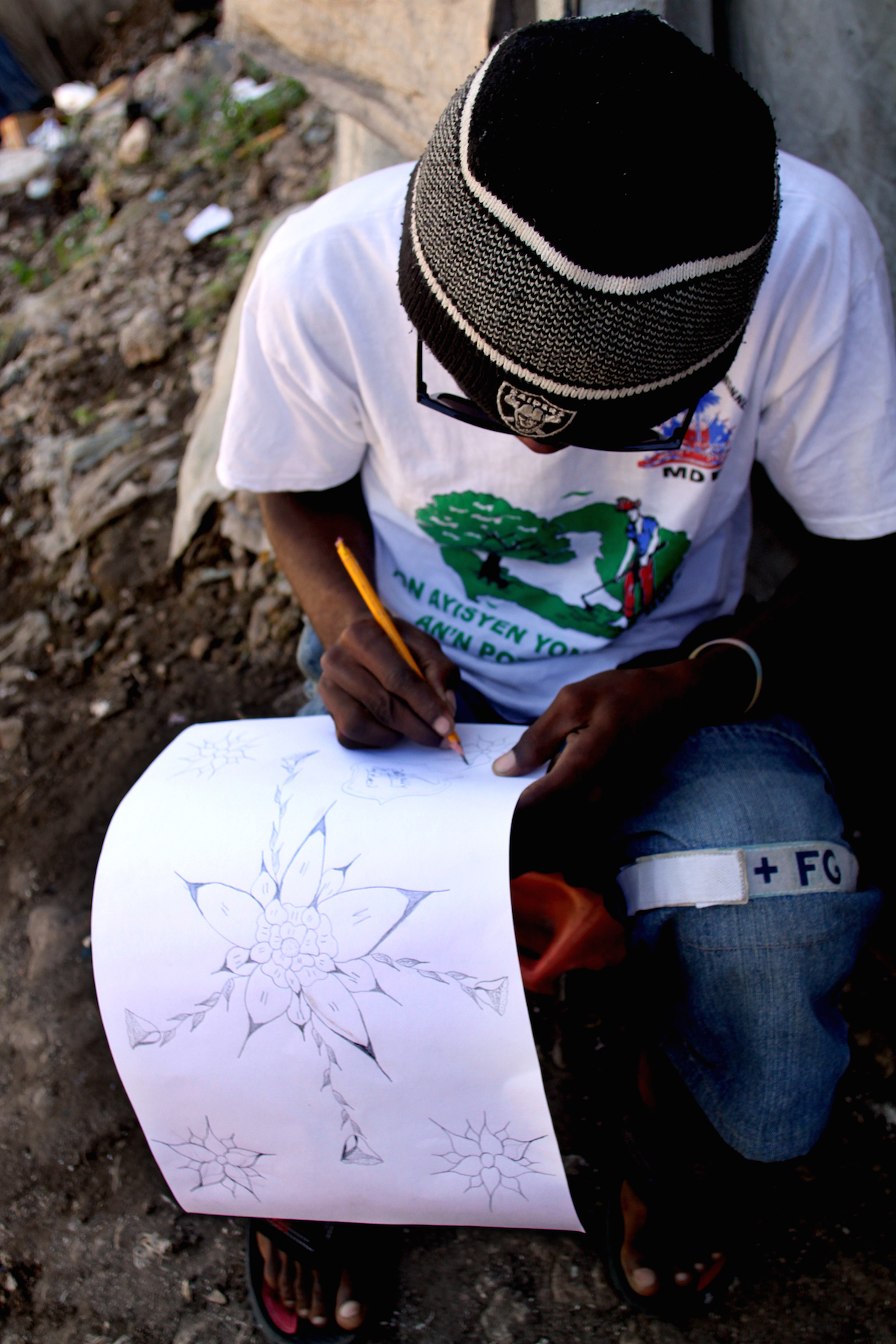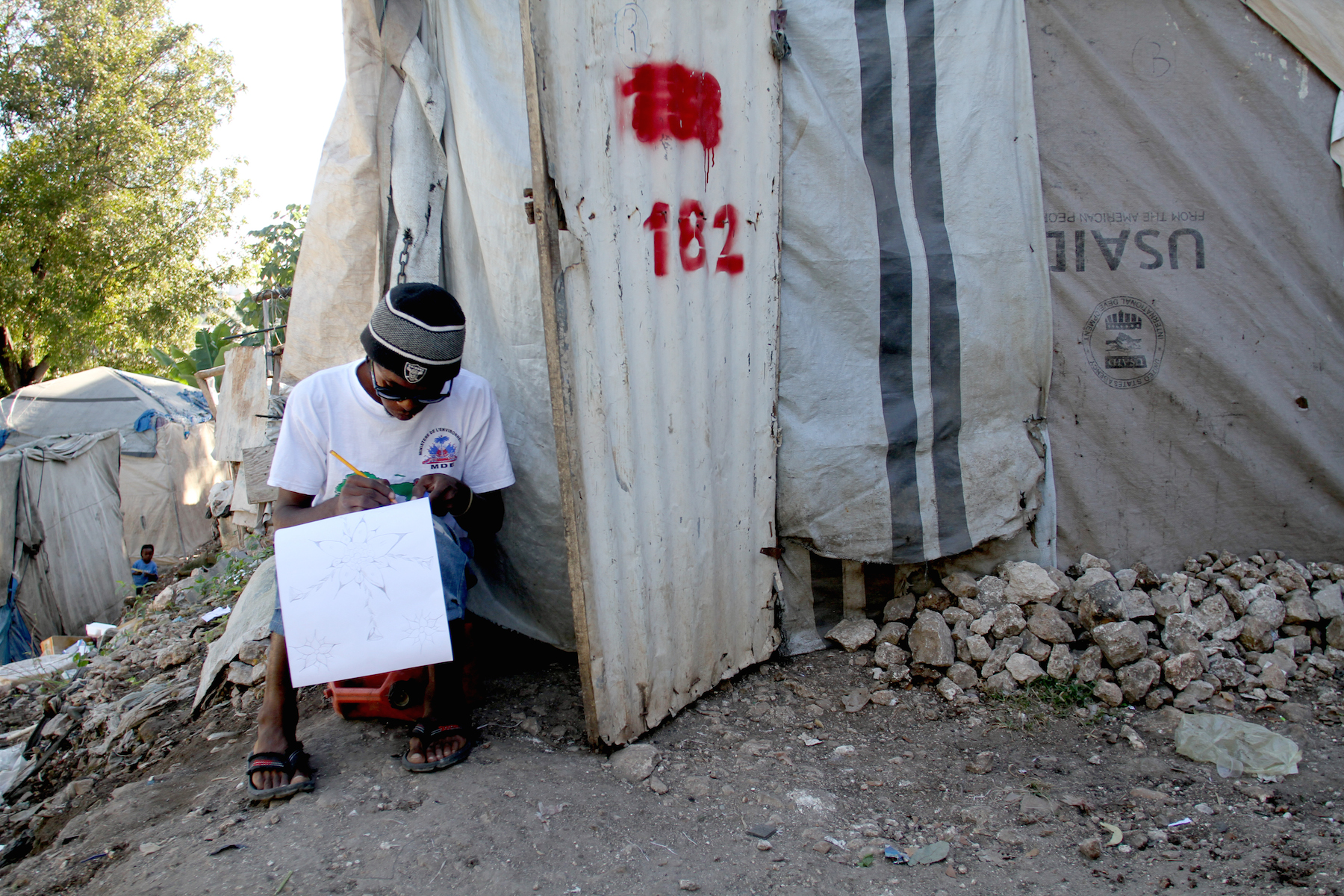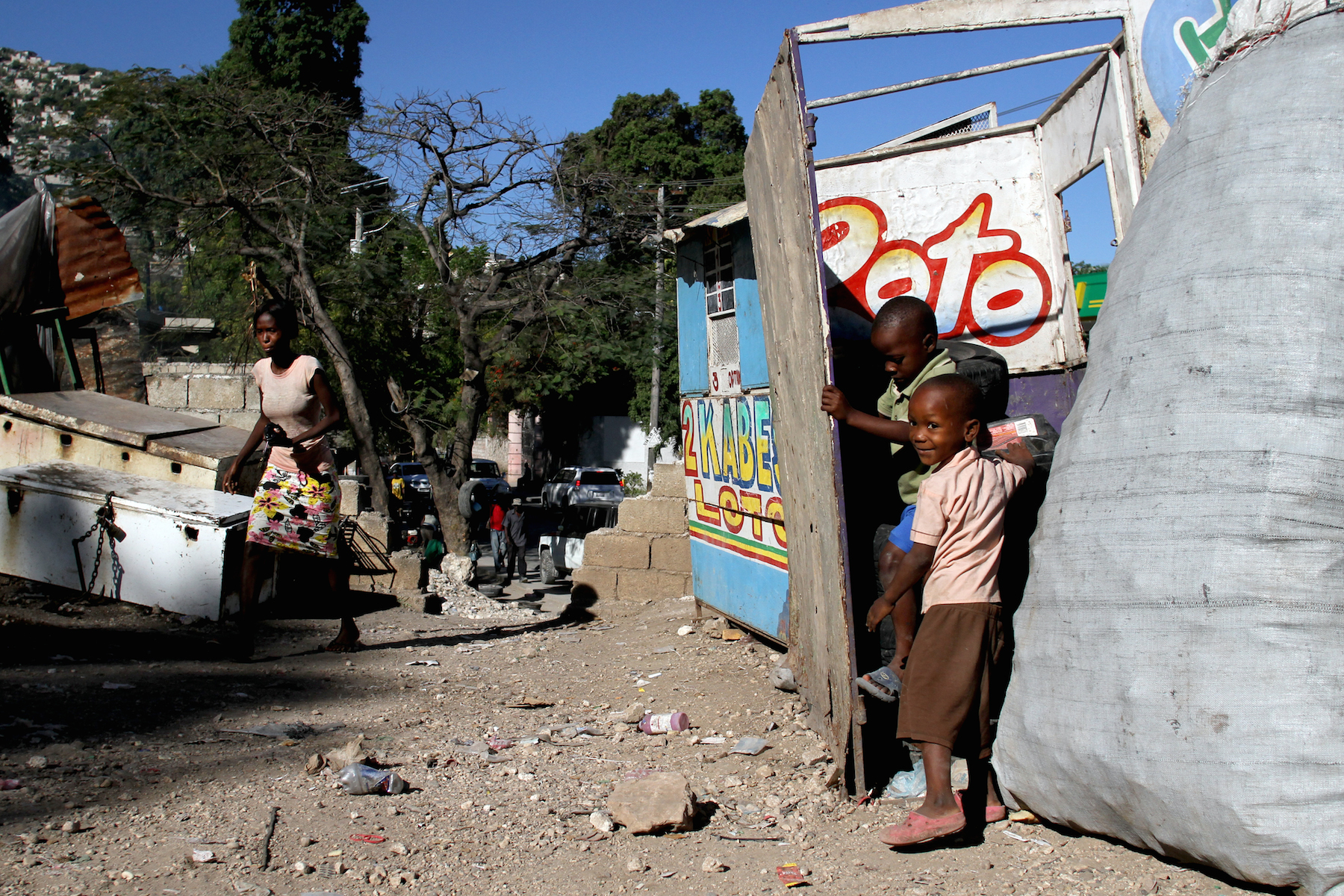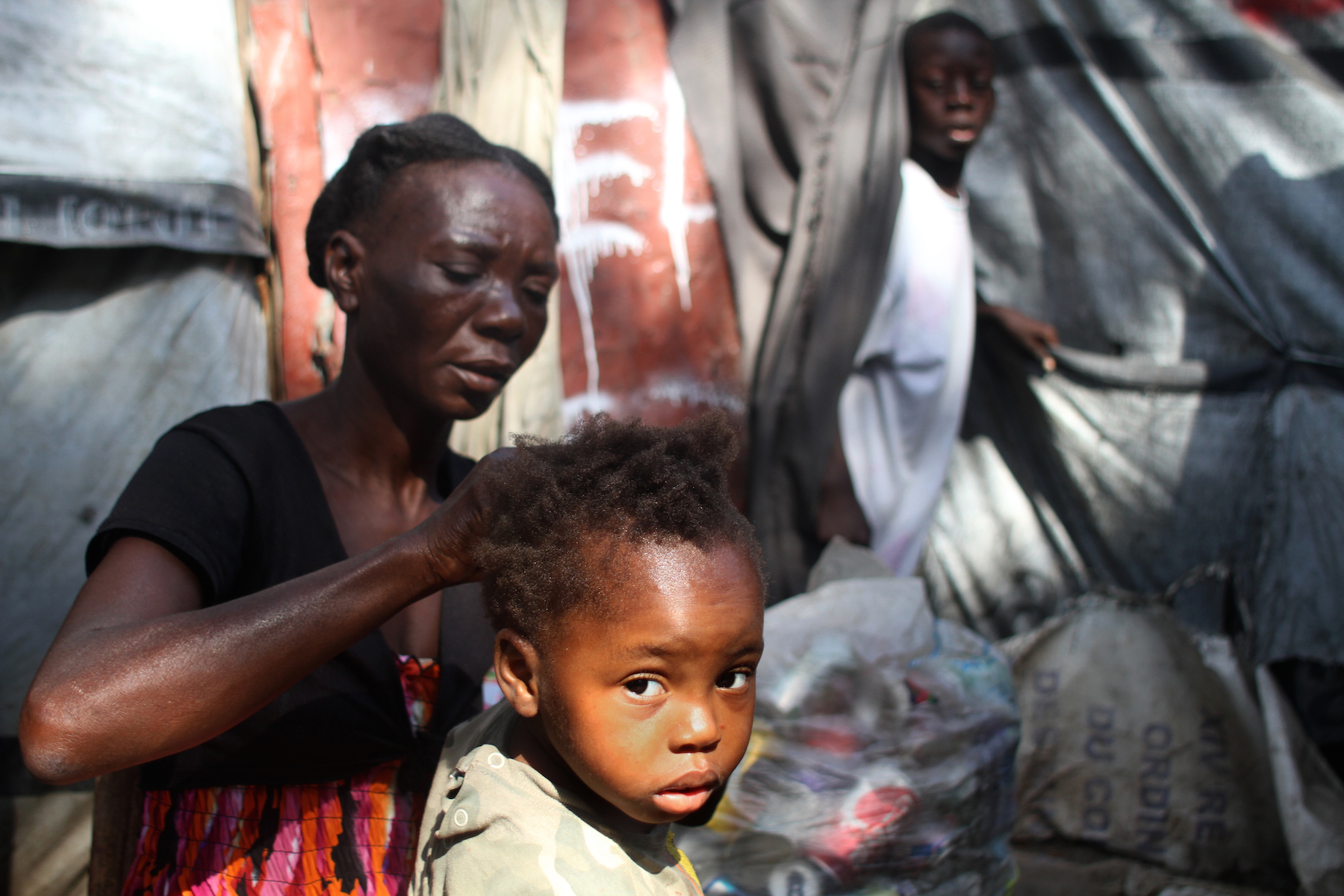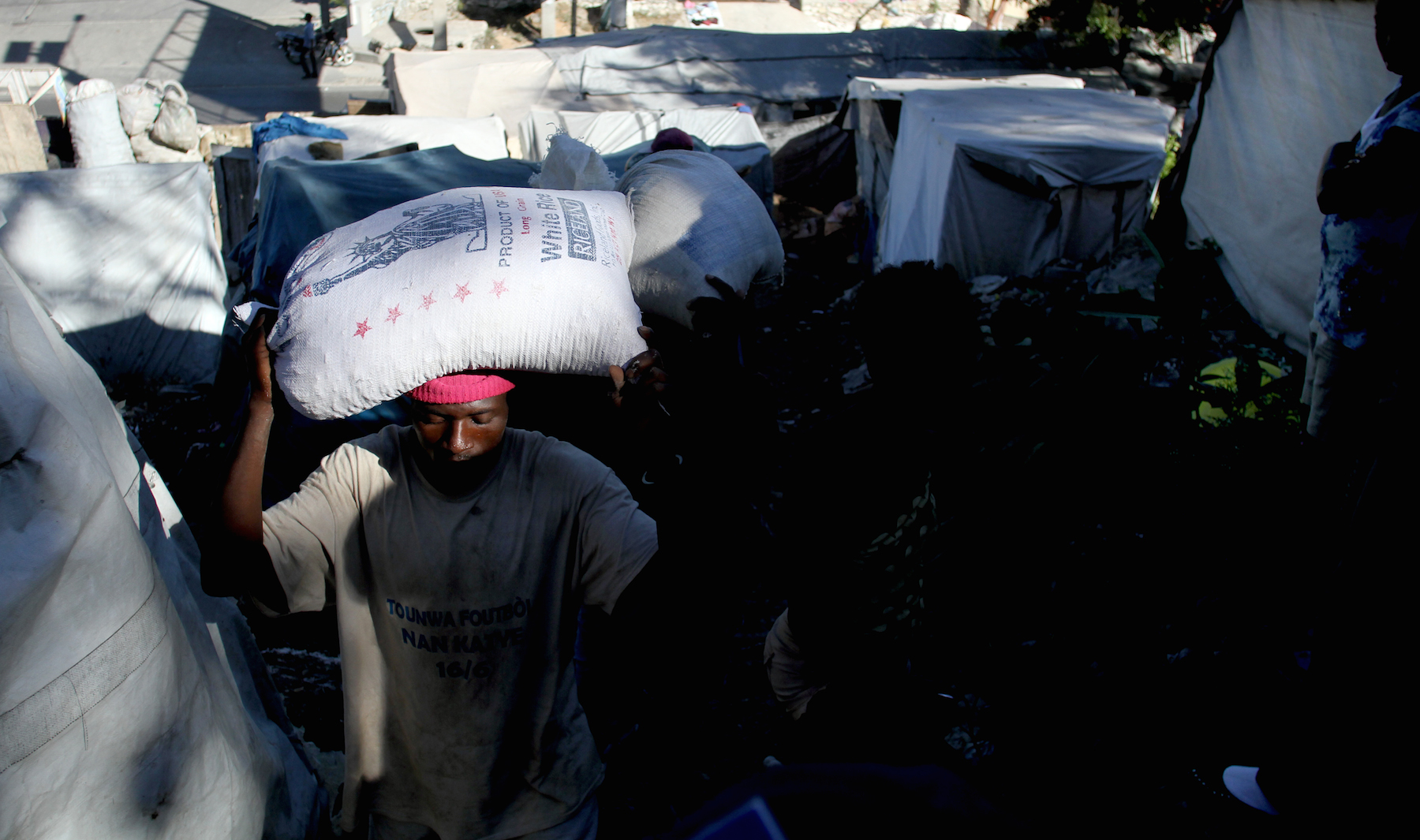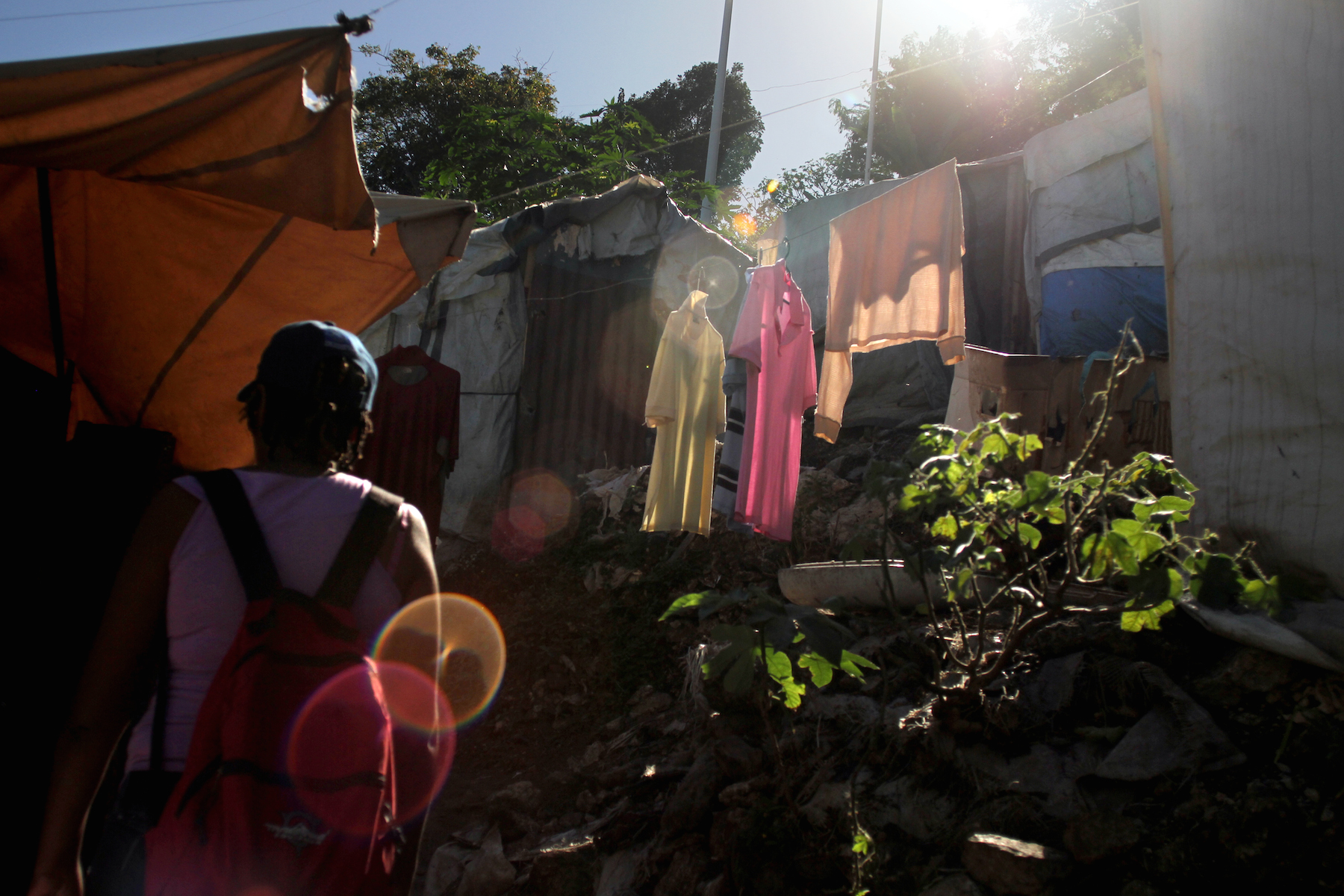 A resident of Acra 2 has her photo taken (left) as Iréne Bellegarde (center) completes the registration process with IOM staff. Bellegarde lived in Acra 2 for nearly four years after the earthquake before she was relocated to new housing in January. During that time, she said that, apart from a few NGOs occasionally distributing non-food items, IDPs were on their own in the camp.
He said that it doesn't compare to his pre-earthquake home, but it's much better than his tent — and it's free for one year with the rental subsidy provided by IOM after the cluster moved away from temporary shelters in 2011. That move, encouraged by the Haitian government, further slowed the relocation efforts because many families moved back to the rent-free camps after their subsidy expired.
Beset with challenges, the CCCM cluster has gradually cleared camps in order of priority, determined by a variety of factors including health concerns, violence and land ownership. The process is far from complete. Like many Haitians, Ivalien mostly blames the government for the slow progress.
"You only have to look at our lives to see the work of the government," he said, gesturing to the tents in Acra 2 when he still lived in the camp. "It's an ailing country because of who is in charge." But he added, it is not for lack of will: "The government is not evil. They want to change things but in Haiti, that is very difficult. Almost a dream."
Though there are signs of hope. The Water, Sanitation and Hygiene (WASH) cluster is lauded as a success, primarily because of its government counterpart: the National Department of Potable Water and Sanitation (which uses the French acronym DINEPA). Perhaps the biggest factor is that DINEPA was involved in the response from day one because its building and personnel, headquartered in the rocky foothills of Port-au-Prince, were largely unaffected by the earthquake. The disaster also provided an opportunity to improve sanitation in Haiti with disaster relief projects, according to Paul Christian Namphy, the Municipal Coordinator of DINEPA.
"Sanitation was so poor before the earthquake that it actually improved in the response," he told IRIN.
The primary reason that the WASH cluster is still active is in response to the persistence of cholera, which most Haitians and international actors believe was introduced by the mismanagement of waste from the UN peacekeeping force, MINUSTAH — an accusation supported by several scientific studies, though not accepted by the UN.
Since late 2010, when the epidemic started, more than 8,000 have died and nearly 700,000 infected by the disease. With the improved sanitation relative to the rest of the country, the WASH and CCCM clusters were actually able to contain its spread within the camps.
"These are small victories inside a bigger defeat," said Namphy, who is also the National Cholera Response Coordinator. "But the fact that cholera was able to take off at all is a failure of the entire emergency response effort."
WASH is the only cluster led by (I think, but need to confirm) its government counterpart. Namphy says that is partly because DINEPA was created under a 2009 reform act aimed at correcting the negative practices of Haiti's political vanguard through greater transparency, which comforts international actors.
Although the consensus is to pass all recovery efforts to the Haitian government as soon as possible, there is an apparent wariness among donors to direct aid straight to state coffers. Of the US$2.43 billion in emergency aid that was delivered within the first two years of relief efforts, only one percent went to the Haitian government, according to UN statistics. Of the US$13 billion in recovery funds pledged by donors, nearly half that was dispersed within the first three years, but only 9 percent was directed to the government, according to the Office for the special envoy for Haiti.
Even Haitian president Michel Martelly acknowledged this phenomenon in a recent interview with Voice of America, saying that corruption has caused "a lack of confidence in the Haitian system." He added that things are different today.
"I believe they should give us a chance to control Haiti, spend that money the way we feel, or we think we have to do it," Martelly told VOA.
Large-scale demonstrations, calling for the resignation of the president over accusations of corruption and the failure to hold legislative elections for the past three years, have become more frequent of late. With Haiti's long history of political instability, the overdue elections slated for October 2014 are the primary reason cited for what OCHA describes as a likely "deterioration in the operating environment for humanitarian actors."
The 2014 Humanitarian Action Plan goes on to say that the remaining coordination structures are expected to be transferred to the government by year's end, "unless another major emergency occurs."